Free Migrations from WP Engine and Flywheel to Kinsta
Ben Word on
Through March 31st 2019, Kinsta is offering free migrations from WP Engine, Flywheel, and StudioPress.
The free migration does not cover setting up a Bedrock site, but if you're already using WP Engine, Flywheel, or StudioPress, then now is a perfect time to migrate your existing sites for free.
I migrated a site from WP Engine onto Kinsta that got over 1 million views and had ~1500 active users all day. WP Engine couldn't handle the traffic, but Kinsta had no issues keeping up! This site happened to be using one of the most popular themes from ThemeForest that creates admin-ajax.php requests on every single page load to handle serving icons on the front-end. Despite the built-in performance bottleneck, Kinsta served the site with ease.
Kinsta supports our open-source projects both on their infrastructure and by financially contributing to the development efforts. Long before our relationship with Kinsta, they've been the only managed WordPress host that we've ever felt comfortable recommending. Several Roots team members have trusted Kinsta with hosting their sites that they don't ever want to have to worry about going down.
Many thanks again to @kinsta for being such a great host. Their support team is incredible and they've made my development life easier!
Started moving sites over to @kinsta. Super impressed with with speed! AND they let me use @rootswp's Bedrock and even Trellis deploys?
Starting at $30/month, Kinsta's plans make sense for anything from basic brochure sites, to WooCommerce stores, to your Bedrock-based WordPress applications.
Load testing results
Kinsta earned itself five Top Tier WordPress Hosting Performance Awards in 2018. It had perfect uptime across every plan. It had zero errors on Load Impact. It had 2/5 Load Storm tests without any errors and only 52 errors total from 3.685 million requests. No signs of stress showed on any test. Kinsta has consistently brought their A game to WordPress Hosting Performance Benchmarks, this year was no exception. It's nice to see them offering newer, cheaper plans that allow people on smaller budgets access their offerings. A huge congratulations to them for earning the most Top Tier Hosting Performance awards of any company in 2018.
| | Kinsta | WP Engine |
| --- | --- | --- |
| Hits | 135 485 | 108 168 |
| Errors | 7 | 12 939 |
| Timeouts | 0 | 1 061 |
| Average hits/second | 2 258 | 1 803 |
| Average response time (ms) | 85 | 158 |
| Fastest response (ms) | 83 | 6 |
| Slowest response (ms) | 87 | 346 |
Need reasons to convince your client or boss to make the move?
Kinsta actually supports the latest PHP versions! WP Engine doesn't support PHP 7.1 (almost 2 years old, active support ends in 1 month)
Kinsta utilizes LXC containers for your WordPress sites so that resources are not shared between any sites
SSH, Composer, Git, and WP-CLI on all plans
Addons for Elastisearch, Cloudflare Railgun, Redis
Incredible customer service, available 24/7 from the dashboard, and the team is made up of WordPress developers and Linux hosting engineers
Get some sleep without having to worry about your sites going down
If your site gets hacked they'll fix it for free (but make sure you re-evaluate your plugin and theme choices afterwards)
MyKinsta dashboard supports multi-user access with permissions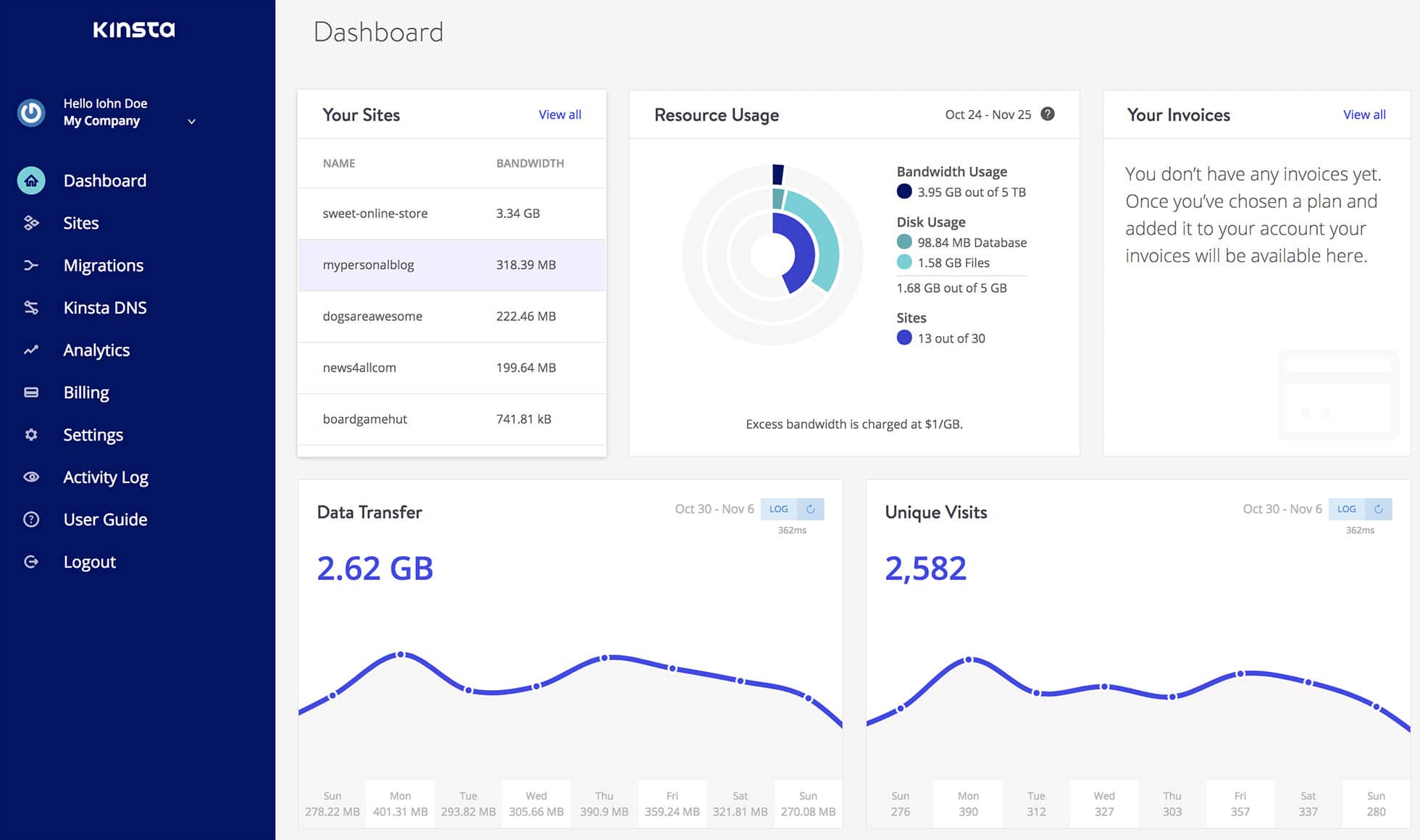 Switch to a managed WordPress host that you can trust.
*Kinsta did not ask for or pay for this post. Affiliate links are included in this post and you support Roots when signing up 💜